Here are some of the things that our customers are
saying about our services on the True Local site.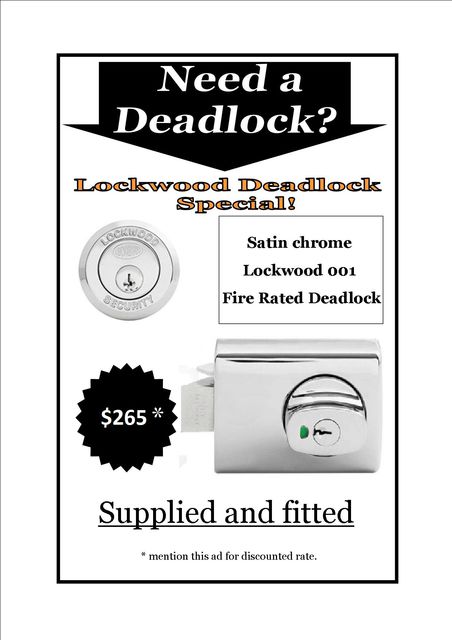 Robert Mcintyre
(from our Google Reviews)
I have used the services of Lockrite many times over the years and always been very happy. We used them to help out with the alarm system at a family home and lots of jobs with locks in general via our Property Management department in our Real Estate offices.
It is hard to get good Tradespeople but Lockrite Locksmiths are great, maybe even the best.
I recently contacted Lockrite to get some new keys cut for a motorcycle. Jeff was extremely helpful over the phone and explained all the options available, and we were able to work out the best option. We decided on cutting a new key to suit the old barrel, as cutting from a worn key doesn't always work very well. I posted parts to him so he was able to cut the key to suit, and he shipped them back within a week. He even checked in with me a week later to make sure everything was OK. Couldn't recommend his service highly enough.
Rebecca Raad
(from our Google Reviews)
Jeff and his team are just awesome! We had a last minute lock issue at work and he was so fast to get to me and sort everything out. I couldn't recommend him highly enough! Thank you Jeff!
Ruan Van Zyl

(from our Google Reviews)
Great service from the Lockrite team! They were quick to assist with our lock-out issue and installed a brand new keypad lock. Very impressed!
Mathew Ellis (from our Google Reviews)
Excellent Service, and professional I was in need of a locksmith urgently (inside a few hours). I contacted a friend who referred me to Lockrite. Geoff was friendly, understood my needs and delivered an excellent service quickly and efficiently. I welcome the opportunity to refer anyone, friend, family or otherwise to Lockrite.
Geoff B.
(from our Yellow Pages site)
I highly recommend Jeff from Lockrite. As a Real Estate agent i have needed the services of a reliable locksmith on many occassion ans Lockrite has always delivered.
Madeline S.
(from our Yellow Pages site)
I am in real estate and coordinate all the maintenance for a large rent roll. I have been using Jeff from Lockrite Locksmiths for some time now and have always been very happy with Jeffs professional and timely attention to detail. I highly recommend Lockrite Locksmiths for all your security requirements.
Geoff T.

(from our True Local website)
Murat A.
(from our True Local website)
Jeff is a very personable down to earth person who from the moment you speak to him on the phone is reliable and sensible in his approach. He is the person who means it when he says "I can fix your problem". He installed a deadlock on my door, fixed a fractured door handle on my sliding door by replacing with a spare he had in his vehicle, and troubleshooted my intercom problems. His honesty and and timely management and excellent pricing results in his name being added to the hall of fame on my 'preferred tradesperson lists'. He deserves all the praise he has been getting on this forum. Don't waste your time with three quotes, just call him to do the job.
Excellent and punctual service. Cheaper than the other Locksmiths I have called. I will definitely use them again!
Arrived within 20 mins, great service. Would definitely use again.
Great service, turned up when he said he would, did a good job and at a good price. I would recommend this company.
Very experienced and knowledgeable. Comes with cheap price and friendly service. Will definitely recommend this
company to my friends.
Prompt and excellent service. Cheap and friendly. I would certainly recommend this company.
Quick (within 20mins) and reasonably priced for a late Friday afternoon lockout (thanks to our 5yo)... would recommend as we shopped around for best price.
Excellent, efficient, communicative (phoned to say would be 20 minutes late), very competitively priced service. No surprises. Will recommend and use again
Thank you Jeff for such a prompt service. I wish more business'/tradesman were more like Lockrite Security. The work was quoted a price and that is the price that I paid! I rang around and called 4 other locksmiths (some did not even answer the phone) and Lockrite were without a doubt the best price, very knowledgeable and turned up within minutes.. I highly recommend Lockrite to anyone